Tuesday, October 29th, 2013
The role of Mormon women has been the subject of a great deal of debate, discussion, and interpretation, both within and without the Church. (Mormon is a nickname sometimes applied to members of The Church of Jesus Christ of Latter-day Saints.) This discussion often leaves out the larger picture and the context. To understand the role of Mormon women today, we have to look at their overall roles in the scriptures, in the modern past, and in today's church, home, and society. We also have to evaluate what official Mormon teachings look like and how they influence actual behavior.
The Mormon view of womanhood has been a traditional one, but it is one that allows for diversity of practice. It outlines the ideal but does not penalize or judge women who are not living in ideal situations. For instance, while teaching that where possible, women have primary responsibility for child care (but are to be assisted by their spouse), the Church also teaches that others must not judge a woman who is employed. The Lord and the leaders of the Church know there are extenuating circumstances that might necessitate mothers working outside the home (and many Mormon moms do). That is between the family and God.
The Origin of Mormon Beliefs about Gender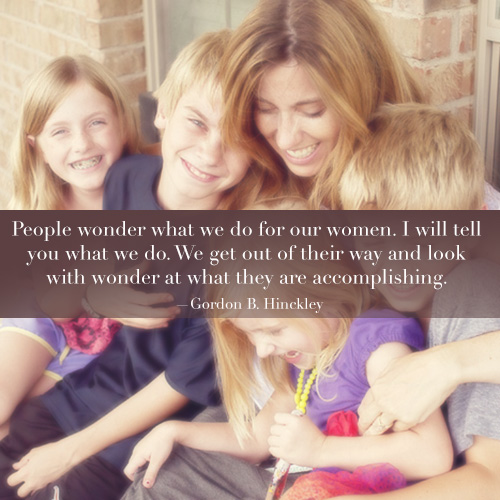 Mormons believe that all people were created as spirits by God prior to their birth. As spirits, we had gender, personality, intelligence, and agency. Our spirits resembled our mortal appearance but lacked the substance of a physical body. We lived in this form for a time before we were born into mortality. During the period of pre-mortal life, we began to develop our character. We had many opportunities to learn and to make choices. We were taught the gospel of Jesus Christ, but it was left to us to decide whether or not we wanted to live what was taught. Decisions always have consequences, however, and the decisions we made prior to our birth were no exception. (more…)