Thursday, November 21st, 2013
Brick-and-mortar churches are emptying in many communities. People–especially millennials–just aren't attending church the way their counterparts did fifty years ago. But one church, The Church of Jesus Christ of Latter-day Saints (often inadvertently referred to as the Mormon Church), continues to add members to its ranks. How is this possible? Several factors contribute to the Church's continued successful growth — membership exceeded 15 million in October 2013 — not the least of which is its use of modern technology.
User-friendly access
The Church of Jesus Christ has a whole network of websites dedicated to making its message of the Savior accessible and easy to understand. LDS.org is the primary site for members and contains access to canonized scripture, lesson manuals, General Conference messages, church magazine articles, and web-only featured content. Church members can register at the site and then gain access to online notebooks for personal study as well as congregation directories and calendars. The site has evolved over the years to be more user-friendly and interactive, and it continues to improve in the richness of its content, adding streaming of conferences, audio files, and video.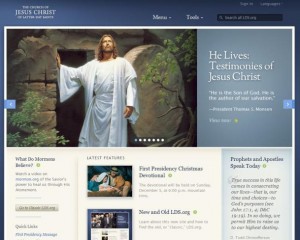 In addition to LDS.org, The Church of Jesus Christ maintains several other websites. Mormon.org is a site directed to those who aren't Mormons and who are looking to learn more about the faith and teachings. Through Mormon.org, users can read profiles of Mormons (submitted directly by members), read concise content about beliefs, order their own free copy of the Book of Mormon, and even live-chat with missionaries. (more…)