President Monson Meets With President Obama

It's a meeting of two presidents today, one the head of the United States of America and the other the international leader of the Church of Jesus Christ of Latter-day Saints, whose members are often called Mormons informally. President Monson will present President Obama with a four-volume history of his family, a gift commonly prepared for presidents and for many other world leaders.
A meeting with church leaders was originally scheduled earlier in the year. However, when President Hinckley, who was then president of the Church, died, the funeral was scheduled for the same day as President Obama's trip to Utah. President Obama respectfully bowed out of the meeting, although his wife came for a visit with church leaders later on.
When President Obama was inaugurated, President Dieter F. Uchtdorf, second counselor in the First Presidency, and Elder M. Russell Ballard of the Quorum of the Twelve represented the church. President Uchtdorf said afterwards, ""It was a great experience we had — to see a unity there that I hope will last on and continue throughout the years of this administration." Elder Ballard said, ""I left with a feeling that the people of America are going to unite behind this new president and his administration and that we need to pray for him. We need to exercise our prayers and help him accomplish the great objectives that he has set." (See Mormon Times, "LDS leaders feel 'deep emotion' at inauguration" by Scott Taylor for the entire story.)
Mormons teach that family life can continue on after death, and so they do family history work as part of their religion. These are their own family members, people with whom they will spend eternity, and they consider it important to get to know them.
In addition, Mormons teach that a loving God would not punish a person simply because he did not have an opportunity to learn the gospel and decide whether or not he wanted to live it. Since the Bible teaches that baptism is required for salvation, as is accepting Jesus into a person's life, many people would be unfairly denied an opportunity for salvation if their lives didn't happen to lead them to someone who could teach them the truth. Mormons do not believe God is unfair.
Mormons believe each person will, to satisfy justice and mercy, must be given the opportunity to learn truth and choose whether or not to accept it. Those who die are taught the truth and, after they've been dead at least one year, a living person who is directly related to the deceased person can submit that person's genealogical information. Then a living person, acting as proxy, can be baptized and confirmed for that person. However, this does not automatically make that person a Mormon. If he had learned the gospel during his lifetime, he would have been able to agree to or reject the truth. Even some who come to know what they are being taught is true choose not to accept church membership and the responsibilities of discipleship to the Savior that come with that membership.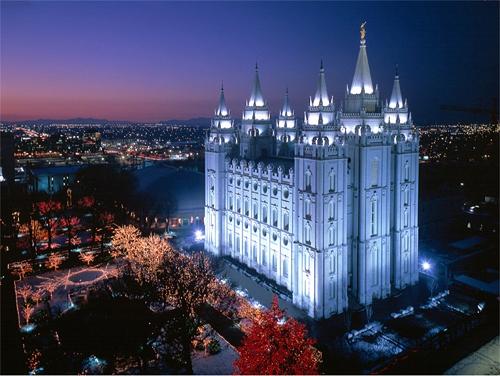 The same is true of those who die and learn of the gospel after death. Although at that point in time, they will clearly know what is true and what isn't, some will prefer not to accept it. Therefore, simply having a proxy ordinance done does not make that person a Mormon. This is a choice he must make for himself, because agency, the right to choose, is central to the Creator's plan for us. If the deceased person rejects the ordinance, it is as if it was never performed.
While President Obama may not choose to use his genealogy for this purpose, it is certain he will find it interesting to explore his ancestors, some of whom were among the earliest settlers of this country. He is, in fact, descended through the same Hinckley line as Gordon B. Hinckley, former president of the The Church of Jesus Christ of Latter-day Saints.
(See his genealogy—not the one the church is presenting–on Wargs.com.)
Summary
Article Name
President Monson Meets With President Obama
Description
President Monson presents President Obama with his ancestral records.
Tags: family history, genealogy, Gordon B. Hinckley, Obama, President Monson, Presient Obama, Thomas S. Monson
This entry was posted on Monday, July 20th, 2009 at 11:13 am and is filed under Array. You can follow any responses to this entry through the http://mormonchurch.com/798/president-monson-meets-with-president-obama/feed feed. You can leave a response, or trackback from your own site.
One Response to "President Monson Meets With President Obama"
terrie Says:
January 4th, 2010 at 9:21 am

Sarah, you choose your eternity by the way you choose to live. If you choose to ignore God and His teachings, if you reject Jesus Christ's atonement and His role as your Savior, you've chosen to accept the consequences of that choice. If you choose to live righteously and to accept Jesus as your personal Savior, then you've chosen the blessings Jesus promised to the righteous. The point of living righteously is to be able to live with God eternally, but we also, and more importantly, live righteously because we love God and we love our Savior. Our obedience is properly done out of pure love for Christ, rather than simply to gain a reward.

Paul told us we choose our eternity: "Wherefore, my beloved, as ye have always obeyed, not as in my presence only, but now much more in my absence, work out your own salvation with fear and trembling." (Phillipians 2:12)

You didn't quote a scripture when you said the Bible says every man would hear of Jesus before death, but I think you can easily see this isn't true. It's likely you've misunderstood something you read, which is easy to do in a Bible that was translated into other languages by fallable men. There have been many people who lived in primitive, isolated places that did not hear of Christ. Certainly, when He lived on the earth, only a few people saw Him or heard of Him. There were many others far away who did not, since we didn't have modern technology to spread the word. Also, infants sometimes die, and not having language skills or knowledge, they are unable to choose to accept Christ as their Savior. A loving God will not punish an infant for dying prior to having that opportunity. Some adults never gain the intellectual or emotional level required to be accountable for their choices.

Sometimes people hear, but only with their heads, not their hearts. Many have heard of Christ intellectually, but have not received a testimony to their hearts of His divinity. Some receive that much later than when they first hear, but others never do, and only God knows who received that testimony in his lifetime. Mormons teach that God is both loving and fair, and salvation is not a random event beyond our control. Each person is treated lovingly and justly by a Father in Heaven who knows his heart and loves him.
Leave a Reply