Funeral potatoes is a potato and cheese casserole that is commonly served by Latter-day Saint Relief Societies as part of the meal they prepare for grieving families to eat after their loved one's funeral. The dish is prominent in the predominantly Mormon-populated areas of Utah and Idaho, and may have originated in that region of the United States. Funeral potatoes may be known by other names, such as potato casserole, and is served at other potluck dinners, such as family and church gatherings. Even in those settings, the dish is quickly identified as Funeral potatoes.
Throughout the history of The Church of Jesus Christ, members of the Relief Society (an auxiliary to the priesthood) have provided compassionate service, including meals, to women and their families. Furnishing a meal for extended family that have traveled long distances to attend a funeral is one way Relief Society women seek to ease burdens and lend support.
The recipe for Funeral potatoes may vary from cook to cook and region to region, but generally it consists of shredded or cubed potatoes, cheese, onions, a cream soup, and sour cream. It is often topped with crushed cornflakes or breadcrumbs.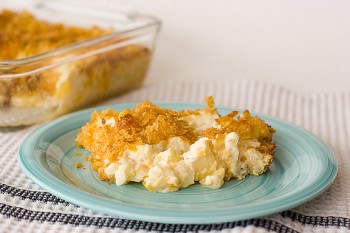 Funeral Potatoes
1 package (32 ounces) shredded potatoes
1 can (10 ¾ ounces) condensed cream of chicken soup
16 ounces sour cream
12 ounces grated cheddar cheese
½ cup chopped onions
½ cup melted butter or margarine
salt and pepper to taste
Topping:
¾ cup crushed cornflakes or breadcrumbs
2 tablespoon melted butter or margarine
Mix ingredients together and pour into buttered baking dish (9- x 13-inch). Top with breadcrumb or cornflake mixture. Bake at 350 degrees F until it starts to bubble. Reduce heat of oven to 275 degrees and bake one hour or until it is no longer soupy.
Summary
Article Name
Author
Description
Funeral potatoes is a classic dish served by Mormon women.
About paulah
Paula Hicken was an editor with the Neal A. Maxwell Institute for Religious Scholarship from 2000 to 2013. She earned her BA degree in English from Brigham Young University. She edited Insights, the Maxwell Institute newsletter, and was the production editor for Faith, Philosophy, Scripture, Hebrew Law in Biblical Times (2nd ed.), Third Nephi: An Incomparable Scripture, and was one of the copy editors for Analysis of the Textual Variants of the Book of Mormon. She also helped manage the Maxwell Institute intellectual property and oversaw rights and permissions. She has published in the Ensign, the Liahona, the LDS Church News, and the FARMS Review.
Twitter •