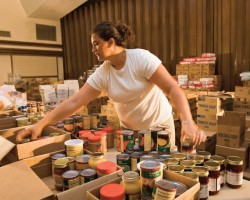 The economy is making people nervous, but Mormons have been preparing for this moment all their lives. Mormon families are taught to avoid debt, save money, and set aside a year's supply of food and other commodities needed to get through a challenging economic time. For many years, outsiders scoffed at this program, thinking it was a last-days scenario or a panic program. Today, the press is actively seeking out Mormons to interview because they've come to realize food storage and emergency preparation is a sensible way to live.
The Mormons teach people to be self-reliant as much as possible. This means they need to prepare ahead for difficult times. One way to do this is to build a supply of food, cleaners, health care products, clothing, and even cash to rely on should they need it.
Typically, these items are relied on during times of unemployment. As people have learned recently, no one is immune from unemployment, regardless of education, experience, or reputation. Finding a new job can require a substantial amount of time. Those who do not need to shop, or who perhaps shop only for perishables, get through this time with little disruption to their lives and with the comfort of knowing they have sufficient food and supplies.
Mormons are counseled to avoid going into debt to obtain these supplies, since debt for any reason but home ownership and possibly college is discouraged. Instead, they begin slowly. Families are encouraged to give up a luxury, such as a vacation or cable television until the money that would have been used for the luxury has supplied the storage. Others purchase several extra items each week, working to have a one week supply. When they have this, they begin on getting ahead a second week. In the very poorest country, women are taught that when they make their daily rice and beans, they should drop a spoonful of each into a jar. When the jar is filled, it's sealed and becomes the first item in their food storage. Since rice and beans keep an extremely long time, this provides long-term security in the form of a food the women are accustomed to serving daily.
However small the start, Mormons know that even a little food put away can make a difference. Just knowing it's there can provide a feeling of security when those around us are frightened. We know that whatever else happens, we won't go hungry.
The Mormons have created a website that teaches its members how to create a food and commodity supply. It includes charts that show how much of the staples a family will need. This site is very popular even with those who are not LDS.
Provident Living will show you first how to build and store the items you need to sustain life, and then how to add additional items to make survival more pleasant. Mormons you know will also be happy to help you get started on this rewarding process.
Your supply of food does not sit in the basement getting old. Mormons rotate their storage, meaning they "shop" from their food storage. New purchases go to into the storage, to be used oldest items first. One advantage of this system is that it eventually cuts shopping costs. Those who have storage can purchase on sale, in season, and in bulk, thus obtaining the best possible prices for their supplies. When a shortage causes prices to soar temporarily, Mormons can use their storage until the shortage is over, both saving money, and reserving those items for those who did not stock up in advance.
Find out what the mainstream media is saying about the no-longer odd Mormon tradition of food storage. Then sit down and start a plan for your own storage. It's no longer just a "Mormon thing."
Summary
Article Name
Description
Recession has shown people Mormons are not weird for storing a year's supply of food. In fact, non-Mormons are emulating them.